Talking Backwoods – Album Review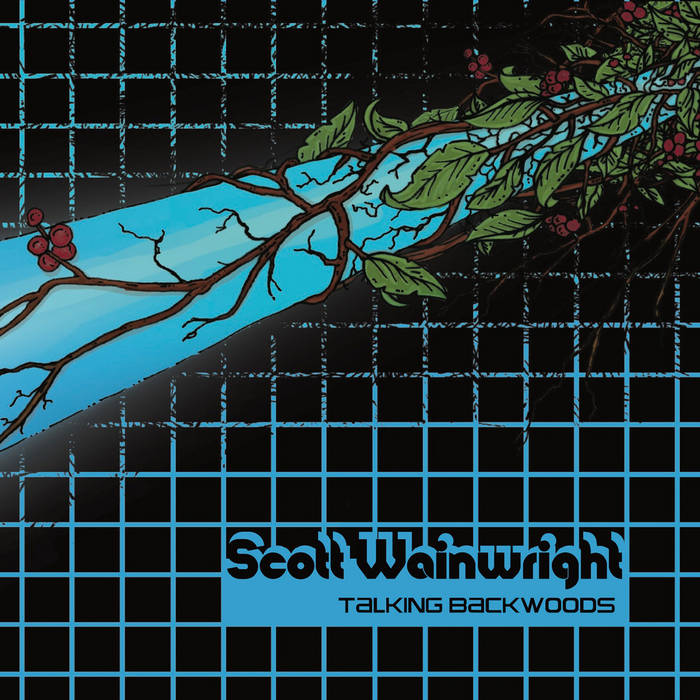 Talking Backwoods by Scott Wainwright, is one of the most unique and original albums that I've heard for a long time. I first became aware of it via a recommendation by Andrew (Half Deaf Clatch) McLatchie – a friend and musician with a growing reputation for his own unique music creations.
With such an endorsement I felt I couldn't go wrong, so I bought it. And I'm glad that I did!  The album is listed on iTunes as 'blues', and for the first minute or so, I thought I was in familiar territory as the first track 'Remember the Zoo' opened with an Old School, trance-inducing, foot-tappin', ragtime finger picking tune that brought a smile to my face.
And then, at just after a minute, the synthesiser kicks in. Yep, that's right. A synthesiser. Beginning with an ominous low-frequency throbbing in the background as a counterpoint to the fingerpicking melody, joined soon after by a playful higher frequency, whistling and whooping through the tune without a care in the world.
"This is different," I thought.
Different is good.
Track two is Backwoods Progress Blues, and this begins with a sound effect that provides echoes of Pink Floyd (no pun intended), sounding very much like the intro to 'Wish You Were Here'. The track comprises a dirty blues harp riff to a foot-stomping backbeat, and once again enhanced by the addition of electronica and further sound effects.
Track three, Refuge of Hope, is a mellow, so-chilled-it's-frosty, introspective guitar-based composition that showcases the skill and virtuosity of Mr Wainwright.
Track four is Delta Surfin', which opens with Early Floyd-esque effects dancing back and forth between speakers/headphones, followed by a prelude of flamenco guitar leading into a meaty resonator-sounding riff of slides and arpeggios to a backdrop of synthesisers and ending with a delicious one-fret slide.
Track five, Eleanor's Dance, is a folky, fingerstyle guitar rag in the manner of Mississippi John Hurt, and, as with the previous tracks, enhanced by the addition of synthesisers which take the frivolity of the tune, albeit briefly, to a darker place. When the track ended, I replayed it because the final half-minute or so had made me re-evaluate the whole tune, and in fact the whole album (I write this after countless play-throughs, but more of that later.
Track six, Better Days, my favourite of the album, is a rollicking jam session of a tune, of the kind that occurs when a group of talented musicians get together and collectively get into "the zone". Better Days made me smile from the outset and twist the volume button up to '11'. This happens each time I listen to it. Oh, and by the way, if you want to hear musical perfection, it occurs precisely at 1:42, just after the bass riff.
Track seven is another contemplative tune called Before the Battle, After the War, and as the name suggests it's a tune of two halves. Lazy slide riffs alongside an acoustic rhythm guitar to the backdrop of birdsong lulls the listener into a false sense of serenity and then jolts them awake with a change of pace and instruments that ends abruptly before you realise what's happened. In my opinion, an understated work of unsettling genius.
Eight is 'Mellow Rag', a track that in my mind is mash-up of the sound of the old Memphis Jug Bands of the 1920s, and the first Gomez album in 1998. Once again, very subtle.
'Dolly Johnson' is track nine, and this is a delightful little ditty that wouldn't be out of place being performed on the front porch of a shack in the Appalachian Mountains, complete with clog dancer. Marvellous stuff.
Track ten is 'The Distance Between Us', a reflective Spanish Guitar-themed piece that drips with the angst and emotion that the title hints at. Heartbreaking.
Eleven is 'Leo's Greenhouse', another foot-tapper similar in theme to 'Remember the Zoo' and full of synth, drum machine and hand-clapping goodness.
At the end is 'At The End', a playful tune that maintains the quality and virtuosity of the tracks preceding and ends the album on a high note.
Any instrumental piece that makes you stop and think about its very meaning is a very rare beast.  Scott Wainwright has created and entire album of such pieces and in doing so has taken the blues into new territory by adding electronica which gives a mellow trance vibe.
Trilby-bedecked blues purists will hate it. The sour-faced blues police, by that I mean those who sneer at anyone who didn't meet Blind Lemon Pegleg in 1967, will also hate it. That's a good thing because it will get people talking, and the more people that talk about the blues, the more the blues will be kept fresh.  Furthermore, I think if the likes of Blind Blake and Mississippi John Hurt were alive today, this is what they would be playing.
This marriage of blues and electronica, in a collection of instrumentals, is a bold move. But I think it's paid off.  I think Talking Backwoods is a masterpiece, and exactly the direction that blues need to travel.